LIVE & VIRTUAL/RECORDED WORKSHOPS
FROM ORDINARY TO EXTRAORDINARY THERE ARE STEPS INVOLVED...™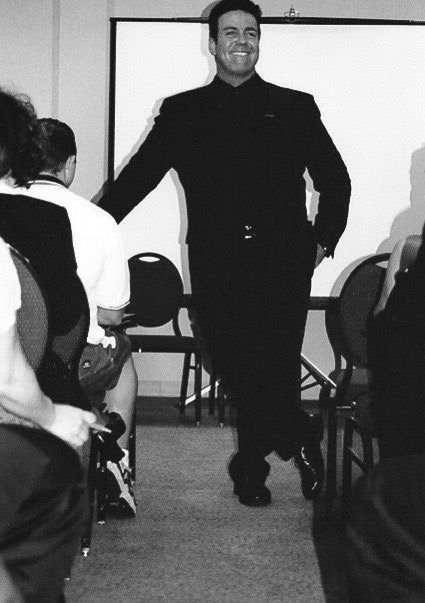 Workshops Seminars Events Live & Virtual/Recorded
A crisp distinction with clarity & class.
Information and relevant innovations to establish both you, and your business as one of a kind, unique and a league all your own.
Upscale & Unexpected
- Personal | Executive Excellence
- Business Development
- Market Dominance
Executive Muscle Mastery 8 CEU
Virtual & Recorded for Viewing any time
The 8 CEU hr Conversational Style Workshop with Dr. Jack Barnathan
Virtual - 8 CEU Credits (Fitness Professionals)
$149
Includes one year subscription to Dr. Barnathan's Private online "Muscle of the Month" bi-monthly updates for Executive Muscle Mastery students only
Nutritional Power 8 CEU Virtual & recorded for viewing any time
Dr. Jack Barnathan introduces the subtle changes that elite pro athletes and peak performers in all arenas apply for Enduring Energy, Elevated Mood & Peak Living.
If you have the Energy… everything else will fall into place. Here is where you begin.
Virtual - $149 - 8 CEU Credits (Fitness Professionals) - Recorded Live in Boston, MA July 21, 2018 with Master Chef Don Doward
1. ENERGY, ENDURING POWER AND TRANSFORMATION
It's impossible to be professionally successfully without a mind and body that performs.
The Art of Inspired Cuisine - LIVE OR VIRTUAL
Vibrant energy and elevated mood through clear meal design including remarkable cooking technique.Presented by Dr. Jack Barnathan and Master Chef / Master Trainer Don Doward, including recipes, timing, and cooking tips.
Ask yourself a question: If you had the energy and inspired mood, wouldn't you make better meal decisions? Go for that walk? Hire a Fitness Consultant to guide you? Of course you would. And that's why our meal design program is focused on those goals - energy and mood. Once you have that down, the rest will fall into place.
A two-part, eight hour workshop | certificate program | live or virtual | 8 ceu credits | tuition $179.
Executive Muscle Mastery NEW for 2019 - LIVE OR VIRTUAL
A newly reimagined certificate program developed by the sports doctor / executive consultant who, early in his career, guided elite performers to gold medals and more.
A unique and inspiring solution, which he refers to as "scientific-common sense," reveals the mysteries of each muscle group, the best approach for personal performance, remarkable recovery, power, endurance and personal renewal strategies.
A special two part - eight hour workshop | certificate program | live or virtual | 8 ceu credits* | tuition $149
*Continuing Education Credits (CEU) for physicians and other certified professionals are offered through accredited organizations for specific workshops. For specific information regarding your CEU needs, contact our staff at 1-212-710-4337 or contact@drjackbarnathan.com
Long Before Strong - LIVE OR VIRTUAL
Flexibility creating balance and a foundation for enduring strength. Before your body can grow stronger and develop an enduring strength it needs to be "primed" with a strategic lengthened-tone strategy. Often called "stretching," there is actually a design to this which, if applied properly, can change any physical exercise into a personal best. Steps clearly taught for anyone to master, and, for Physical Design / Fitness professionals, to apply to their work with patients / clients.
A four hour workshop | certificate program | live or virtual | 4 ceu credits | tuition $69
Executive Life | Style | Design™ - LIVE OR VIRTUAL
A focus on support for the Leaders / Executives / Board Members. Beyond the clichés of "office place wellness" to a vibrant energy, attitude and achievement. Physical design, strategies for energizing and mood lifting meals, combined with our unique "centered, certain and strong" mind focus and renewal techniques. Lecture introduces principles applied in our full "Corporate Consulting" service.
A dynamic one hour lecture | live or virtual | 1 ceu credit | tuition TBA
An Enduring Strength - LIVE OR VIRTUAL
Anti-aging newly imagined as a power and presence that endures. Rather than commonly applied as a forced pharmacological / cosmetic change of appearance only from the outside.
Strategies for Physical Design ("Fitness") programs that encourage hormonal, neurological and muscular power and performance that lasts. Meal Design, Mind / Body strategies and specific Physical Design programs introduced.
A four hour workshop | live or virtual | 4 ceu credits | tuition $69
Personal Physical Transformation - LIVE OR VIRTUAL
Physical transformation creating a renewable well of energy, elevated mood and endurance.It shouldn't be that hard. Or painful.
Creating a change of "physique" should be compared to a "flow" or "ongoing rhythm" of changes. Not trauma from the outside. You'll learn how the body is actually "physiologically at home" when growing - the right way. Apply these unique principles of physical design | inspired cuisine and renewal for a virtual well of renewable energy, elevated mood and endurance. Developed and presented by the multi-award winning sports doctor who has trained, and certified the best in the fitness professions and professional sports.
A four hour workshop | live or virtual | 4 ceu credits | tuition $69
The 1/100th Factors - LIVE OR VIRTUAL
Some of the most exciting - and heartbreaking moments in sports occur when the difference between a gold medal - and nothing - comes down to the smallest detail: the 1/100th of a second factors.
A difference between remarkable success and frustrating failure often comes down to missed details in physical design | inspired cuisine | recovery-renewal and more. Having coached some of the world's top performers in sports, the arts, and business, Dr. Barnathan has made it a point to not miss these essentials, and share with you a workshop of the small steps that could lead to a massive win.
A four hour workshop | certificate program | live or virtual | 4 ceu credits | tuition $69
2. PROFESSIONAL ACHIEVEMENT | EXECUTIVE PERFORMANCE
NEW INSIRED STRATEGIES FOR PERSONAL ACHIVEMENT AND EXCELLENT EXECUTIVE PERFORMANCE.
Centered | Certain | Strong™ - LIVE OR VIRTUAL
Owning your power of presence. Purpose. Confidence. Calm.
A strategy was born in guiding athletes to the Olympics and now applied to corporate board room training, personal excellence and more. It begins with simple steps for breath and focus which science assures us, when properly applied, floods the body and brain with mood enhancing / energy building supports while reducing the damaging stress hormones (cortisol…). Can be applied by anyone, anywhere.
A four hour presentation | live or virtual | 4 ceu credits | tuition $69
Adventure & Exploration - LIVE OR VIRTUAL
This new professional specialty adds a deeper level of experience while traveling for either work or play. When away from the "usual" environment we have a unique ability to explore goals, energy and emotion in a new and potentially inspiring light. Strategies for taking advantage of new settings for exploration of mind / body / spirit.
A four hour presentation | certificate program | live or virtual | 4 ceu credits | tuition $69
Motivational Mastery - LIVE OR VIRTUAL
To feel inspired is one of life's great joys. It fuels our creative spark and can be the start of remarkable accomplishments. But impacting others with that fire requires a new set of skills, which Dr. Jack Barnathan has spent his career developing, sharing, and teaching. Learn steps to take yourself, your family and "community" to a next level experience of excitement for remarkable achievement and thoughtful accomplishment.
A four hour presentation | certificate program | live or virtual | 4 ceu credits | tuition $69
3. LUXURY | LIFE | STYLE | DESIGN WORKSHOPS AND EVENTS
INSPIRATIONAL AND THOUGHFUL ONE OF A KIND WORKSHOPS DESIGNED FOR BETTER LIVING.
The Annual Luxury LifeStyle Conference and Presidential Penthouse Reception:
Luxury Life | Style Event is a yearly event organized by Dr.Jack Barnathan in New York City, that was held in the Lotte New York Palace Hotel. This inspirational event gathered innovative and thoughtful specialists, coming from around the world with different fields of expertise, in order to exchange experience, ideas, and share inspiration.
When people think of luxury, the first thing that usually comes to mind is possession and surrounding to expensive objects. This particular workshop discussed luxury as a mindful, thoughtful, ethically profound experience that when incorporated in different aspects of life and business, brings awareness in daily life & business. It teaches strategies, how to create a unique and mindful experience for themselves and their clients.
Date: Autumn 2018 | Location: New York City | Details TBA
Art, Architecture and Creative Design: How environment drives experience - LIVE OR VIRTUAL
Just as the change in seasons drives changes in all animals, plants and individuals, we can use this same scientific truth to create an "environment" that encourages positive, powerful change and growth. An understanding and clear argument for the need to be thoughtful in our surroundings in every imaginable way.
A four hour presentation | certificate program | live or virtual | 4 ceu credits | tuition $69
Style & Beauty as Transformative Art & Science - LIVE OR VIRTUAL
Science teaches us how factors such as scent, taste, visional surroundings, verbal support cues (both from others, and those we tell ourselves) can create dramatic change in our energy, outlook, motivation and mood. This unique workshop helps us apply our own professions as integral components of a new professional specialty.
A four hour presentation | special certificate program | live or virtual | 4 ceu credits | tuition $69
Leadership: Moving Beyond The Cliche of "Influencer"- LIVE OR VIRTUAL
The goal should not be to attract everyone on social media. The goal should be to attract the specific people who need what you uniquely have to give. A workshop / presentation utilizing current research and creative insight into how to develop your unique community and motivate them to share your message with other similarly motivated individuals. A thoughtful path to growth and achievement.
A special four hour presentation | certificate program | live or virtual | tuition: $69
SPECIAL PRESENTATIONS
The National Symposium On Natural Fitness With Arnold Schwarzenegger
The annual conference created by Dr. Jack Barnathan and Gov. Arnold Schwarzenegger, 26 years ago, with the Governor serving as keynote speaker each year.
March 1-4, 2018| Columbus, Ohio, USA | Details: TBA
SPECIAL CONTINUING EDUCATION WORKSHOPS FOR PHYSICIANS
Muscle Mastery
A three hour intensive exploring specifically selected muscle groups utilized in fitness / sports / life & lifestyle endeavors. How the "personalty" of each requires unique support (physical training form, nutrition, recovery, renewal techniques and more). These groups selected for review due to their essential support function for growth, as well as their unique vulnerability to injury. Includes information to help the Doctor of Chiropractic not only educate the patient, but also present to the community as an invitation to the "complements" of support Chiropractic is unique in presenting. 3 hours - live or virtual
Long before Strong
A three hour intensive revealing a need to look beyond "flexibility" training of the patient / athlete, and instead develop a strategy for true "alignment" and balance as the "starting point" of all fitness / power / endurance mastery. This foundation of stability and strength is something the Doctor of Chiropractic integrate into a progressive wellness program.
Executive Life-Style-Design
A three hour intensive detailing the specific role the Doctor of Chiropractic can play in patient / community education and support regarding unique stresses presented in the executive office setting. Specifically for the leaders of corporations, organizations and community entities. Moving beyond "workplace posture," and other "wellness" offerings, this presentation discusses both the scientific findings for the negative impact of stress, as well as an ability for a positive outcome as a result of key physical / health / attitudinal adaptations. Community education insights, and opportunities for becoming a resource for the corporate community explored.
An Enduring Strength
A three hour program presenting Chiropractic and the question of an "Anti-Aging Lifestyle." With Anti-Aging / Regenerative Health Care considered the fastest growing sub-specialty in medicine, it presents a question as to the innovative insights and opportunities chiropractic may present in this arena from a "natural" wellness perspective. Exploring patient education and community presentations with specific recommendation for nutritional growth, mind / body strategies and physical activity design. Scientific studies along with specific strategies will be presented.
Personal Physical Transformation and the role of Chiropractic
With the "Fitness Industry" currently experiencing challenges in educating a skeptical public about how "Fitness" can make a true difference in personal growth and healthy change, Dr. Jack Barnathan presents a strategy to bring clarity to the confusion and support the chiropractic treatment plan as a central factor for personal physical transformation and vibrant growth. With his decades of work as a team doctor, created of the annual Chiropractic Symposium on Natural Fitness with Arnold Schwarzenegger, and as an instructor who certified thousands of students as fitness professionals, he bring a unique insight to the challenges, and tremendous opportunities available to the Doctor of Chiropractic for both patient care and community education / leadership.
Centered | Certain | Strong™
A strategy for mind - body centering to help the patient own their ability for presence, purpose, confidence and calm. A strategy born in guiding athletes to Olympic Gold as well as applied in the corporate board room for developing personal excellence with centered calm at the core. Beginning with simple steps for breath and focus, body alignment, visualization and stress reducing strategies for supporting the chiropractic patient as well as a powerful education tool for community education.
Motivational Mastery
A three hour workshop utilizing skills to inspire positive action for health and vibrance on the part of our patients, and community. Inspirational mind "flow" strategies along essential steps to help individuals "own" a creative desire for creative meal design, motivating physical activities and mind-set focused for a vibrant, energized and enduring wellness.
Meals Design for Vibrant Performance
Dr. Barnathan has served pro and Olympic athletes, along with Fitness Professionals, enthusiasts and is the creator of the annual National Symposium on Natural Fitness with Arnold Schwarzenegger as keynote each of it's 25 years. Beyond his certifications in fitness and nutritional performance, he brings to this intensive the ingredients, preparation tips and timing strategies for maximum energy and vibrance that have been applied in the support of elite performers in sports, fitness, the corporate world and everyday life. Recipes included.
The Certificate Program in Life | Style | Design:
(four - 3 hour workshops - 12 hr total)
Principles and applications designed to showcase the unique expertise of the Doctor of Chiropractic, as well as the chiropractic practice as a driving force for individual, and community Life | Style | Design. Incorporating nutritional strategies, physical activity, mind-body excellence and communication / presentation skills to support the D.C. in sharing a progressive, yet scientifically based program that goes well beyond the "clichés" of "wellness." Creating exciting goals for patients and community of a life that is energized, inspired and possessing a strength and physical vibrance that endures.
**Dr.Barnathan regularly crafts workshops for specific events, educational institutions, Spa's, Corporate settings and more. Contact our office on how we can design a presentation with Dr.Barnathan, and our team of Experts & Artisans™, to add a powerful impact to your event.
If you have any additional questions, we are happy to answer them for you. E-mail us at contact@drjackbarnathan.com or call our office at (+1) 212-710-4337.
FROM ORDINARY TO EXTRAORDINARY THERE ARE STEPS INVOLVED...™